One of the best things I noticed and liked in a Traxxas Rustler 4×4 VXL is its different shape than the rest of the other Traxxas RC cars…
Personally, I see that most off-road Traxxas RCs trucks have the same shape from the Traxxas Slash Ford Raptor to the X-Maxx. Which is a powerful-looking pickup truck.
But the Rustler is different. The aggressive-looking shape, the wide-body, and the wheels as well as being close to the ground are all factors that make the Rustler 4×4 VXL a special RC car and one of the most recognizable trucks in the RC cars world.
What about the performance? Is it good or bad? Is it worth it? Let's discover the answer in the next few lines.
Read Also: 14 Fast New Traxxas RC Trucks That Will Blow Your Mind
Traxxas Rustler 4X4 VXL Review: The Design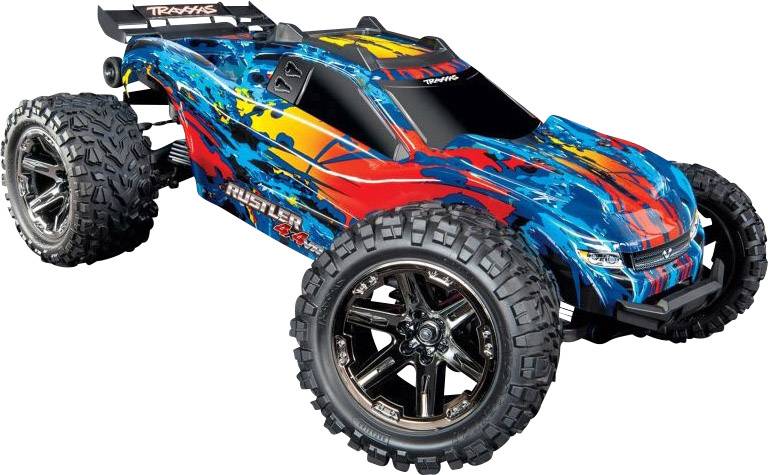 The Rustler 4×4 VXL's Body
As I said in the introduction, the look of this car is what attracts me the most and I think you do also.
What I like a lot about the Traxxas Rustler 4X4 VXL is the graphics and the colors that are stretched on its body.
It's true that the front grille, the headlights as well as the windows are fake which something I hate about RC cars in general (You can add some aftermarket upgrades later for more fun). But, they give a great look for this RC truck.
Another thing I like about the new Traxxas RC cars is the new clipless body that the company has started to add in their new RCs.
So, instead of going through the pain of taking off 4 clips from the body like the Slash and the new Drag Slash, all you have to do is to take off just one clip with one click. Then, the whole body can be taken off easily.
And by the way, the body is so light. This lightweight helps this Traxxas car be more flexible and fast on the road, especially when it comes with the front super powerful bumper, the flexible and smooth shocks, the strong arms, and the large 2.8" black chrome wheels. This car is stunning!
The Chassis
The Traxxas Rustler has the same platform as the Traxxas Slash 4×4. This is something great because the Slash 4×4 is well known by its reliability and handling.
The chassis is 20 mm longer than the Traxxas 4X4 Stampede for better stability and handling. It's easy to be opened and get access to the RC car parts. The great thing is, this Rustler 4X4 VXL Chassis comes with added places for tunning (If you're a fan of tunning your RC car).
Read Also: Top 10 Easy Upgrading Parts For Traxxas Rustler 4×4 VXL
However, there is something that I don't like that much about this platform, and I see it as another reason to upgrade your RC car, which is the plastic parts.
This is something most Traxxas RC cars come with, but there are good chances that they will break easily with some aggressive use + limiting the truck from reaching its full potential.
However, there are some other RC cars like the Maxx and the X-Maxx that come with some aluminum parts.
Well, in the end, you get what you pay for!
Read Also: Traxxas Slash 4×4 VXL vs Traxxas Rustler 4×4 VXL. Which Is Better?
The Performance
I always prefer the 4×4 Traxxas RC cars over the 2WD cars because of a couple of reasons. And, as you see from the title, the Traxxas Rustler 4X4 VXL is a 4X4 vehicle which makes it so exciting to see this huge power.
This doesn't mean that the 2WD version is not good in comparison to the 4WD version. It's just a personal preference. Therefore, there are other people that prefer having a 2WD version over a 4WD version because each version has its own pros and cons.
Read More: Traxxas Slash 4×4 vs 2WD: Which Is better for you?
The Motor
This RC car comes with a Velineon 3500kV sensorless brushless motor and a maximum speed of 65 MpH with a 3s Lipo battery + a VXL-3s™ Waterproof Electronic Speed Control that contains 3 driving modes: The sport, race, and training mode. It's actually more powerful than the Traxxas Slash 2WD Ford RAPTOR that we reviewed before.
The Shocks And Other Parts
The Traxxas Rustler 4×4 VXL has cool shocks. Despite being plastic built-in, and are able to break easily, you can still have them if you're a beginner and you have simple driving (Like knowing how the car works).
Until you're an expert trying to create a new jump record with your Rustler. At this rate, one high jump is enough not only to break your shocks, but also, the driveshafts, and maybe other parts as well.
This is why you should add some upgrades to your Rustler and replace the plastic parts with aluminum ones.
Check our article about the best 10 Traxxas Rustler upgrades to add in 2021
Traxxas Stability Management
As we saw on many other Traxxas RC cars like the Maxx, the Rustler 4×4 VXL has also a Stability management system that deprives the car of getting off its direction by turning the wheels against the direction where the car is going.
This system allows you to have easy driving and better control over the car. And you can of course turn it off if you want to enjoy driving your wild monster!
What I like about it…
Up to now, what we covered about the Traxxas Rustler 4X4 VXL is great and awesome. However, there are some other features that are even greater and can make your experience extremely fun as well.
Self-Righting
Believe it or not, this Traxxas Rustler 4X4 VXL can go back on its tires when it is upside down easily and effortlessly!
You don't need to follow your RC car to flip it back when its wheels are up anymore. All you need to do is to click the accelerator button back and forth, then, the car will be on its wheels again automatically like the Traxxas Maxx.
Flipping back prevention wheelies
On the rear spoiler of the car, there are small wheels that prevent the car from flipping on its back when functioning.
These wheels are so small, however, their role is so big!
Here are some quick great features:
Clipless ProGraphix® Body
VXL-3s™ Waterproof Electronic Speed Control
Velineon® Brushless Motor
Traxxas Stability Management® (TSM)
TQi™ 2.4GHz High Output Radio System
Low-CG design for responsive handling
New extreme heavy-duty driveshafts
Oil-filled steel gear front and rear differentials
Chassis-mounted #2075 servo
Large 2.8" black chrome wheels
Talon™ EXT tires
Sealed Ball Bearings
Hex hardware with Rust-Resistant Black Oxide Coating
What I don't like about the Traxxas Rustler 4X4 VXL
Despite having all these amazing features, the Traxxas Rustler 4X4 VXL has one problem when buying it.
It doesn't come with a battery and a charger. You have to buy them separately which is a little bothering, unlike the Traxxas Slash 4X4 that is ready to race RC car.
Also, the stock plastic built-in material, not only in the Rustler 4×4 but in most Traxxas RC cars. But it's okay as long as there are other premium aftermarket parts that you can upgrade with to make your Rustler better and stronger.
If you'd like to know more about the Traxxas Rustler 4×4 VXL details and price. Click here to get it now! Or click on the button below.
Other than that, you can check our list of the best Traxxas RC cars that you can have for less than $200.
OR, you can check our list of the fastest 14 Traxxas RC cars EVER!
If you would like to see more RC cars Traxxas reviews, visit us on our website.
Read also: Traxxas Slash 4×4 Parts: Top Slash 4×4 Upgrades You Need To Do Now!