I know a lot of people love Traxxas UDR! But unfortunately, they can't afford it due to its high price. Well, here is the best alternative: It's Latrax Prerunner!
What I love about Latrax is the fact that they provide a lot of similar Traxxas RC cars with less price and great quality! They're owned by Traxxas after all.
In addition to Traxxas Latrax Rally and Teton that we reviewed earlier (You can check the Teton's review from here and the Rally's review from here), Latrax is still having a lot of RC cars that people find affordable and so fun to drive!
It is true that they're much smaller in size in comparison to Traxxas. However, the enjoyment and the fun never go because of the size.
And if you disagree with me, Latrax will prove you're wrong.
Let me show you what this RC car is capable of in the next few lines…
Read Also: Traxxas Latrax Teton. The Most Affordable High-Quality RC Car
Latrax Prerunner Design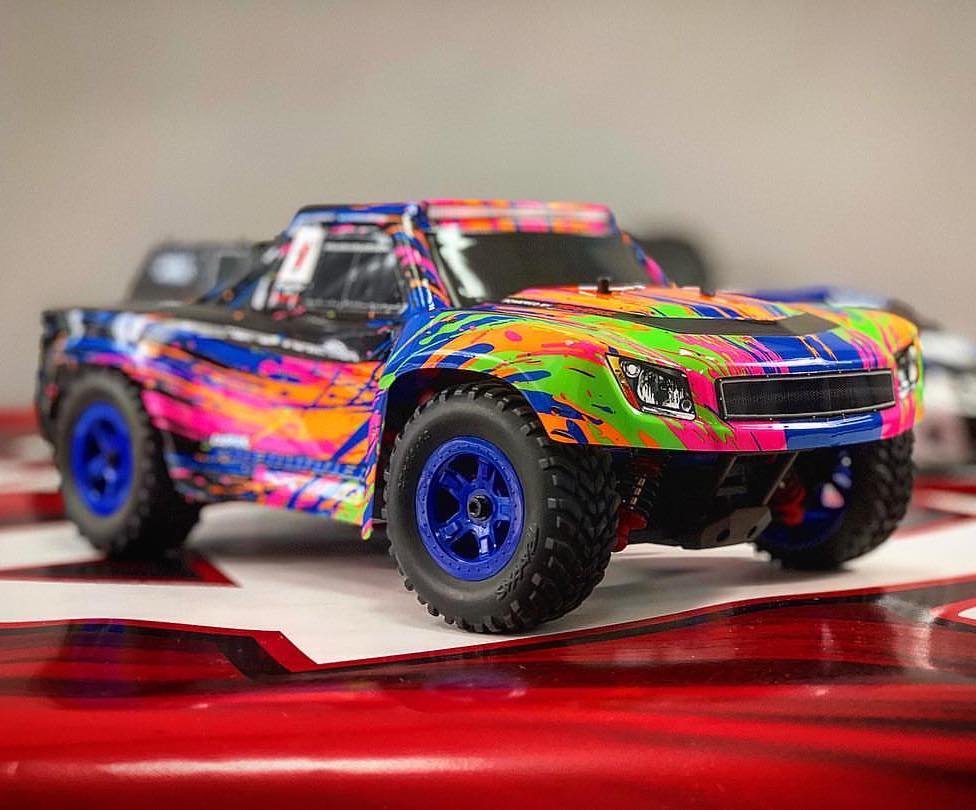 The Body
When I saw the body of this mini monster truck for the first time, I noticed a bunch of things…
It does look so similar to Traxxas UDR and Traxxas Slash. In fact, it's a mix between those 2 monsters!
When it comes to headlights, the Latrax Prerunner is similar to Slash's design. On the other hand, the design of the body looks the same as the UDR.
Concerning the paint, the Prerunner comes with two stock bodies that you can choose: Black and Blue OR Black and Red.
Of course, there is another exclusive and limited edition aftermarket body that you can buy separately. You can check it out from here.
Read Also: Traxxas UDR – Weird Secrets You Didn't Know About Traxxas Unlimited Desert Racer
The Chassis
The chassis of the Latrax Prerunner is almost perfect. Unlike the Latrax Rally, you get everything you need in this RC monster Prerunner!
Oil-filled shocks, powerful motor and controller, included battery and charger, high-quality bearings.
But, of course, there is always room for improvement if you love upgrading and adding parts.
You don't need to worry about the quality of this RC car because it's from Traxxas! Whether it's a Traxxas or Latrax, the quality remains the same!
Read Also: Traxxas Latrax Rally. One Of The Best RC Cars For Beginners Up To NOW!!
The Performance
When it comes to the performance of this RC car, let me tell you that it's really crazy!
First of all, this truck is a 4WD RC car with 4 wheels spinning and creating chaos all over the place!
You may be surprised but YES! You can get a 4WD RC car with such a size and for a super affordable price!
With its Powerful 370 brushed motor and its Waterproof Electronic Speed Control, this RC car can go really fast!
You may say: "Well, I'm considering taking the Latrax Prerunner to my kids, don't you think it's a little bit dangerous for them to drive at such speed?"
The answer is no, you don't need to worry! There are 3 modes, not only in this RC car but in all Traxxas and Latrax RC cars, which are:
Sport Mode – Forward / Brake / Reverse: This is the standard mode that the car comes with it first.
Race Mode – Forward / Brake: This is the best and the most enjoying mode.
Training Mode – 50% Forward / Brake / 50% Reverse: This mode is suitable for your kids. It cuts off the power to half. In this case, you don't need to worry about harling your kids!
This video shows you exactly how to turn on and off every single mode of these. Check it out.
In a conclusion, whether you buy this car for yourself, or for your kids. you can still adapt it depending on your needs.
To be honest, it is a perfect RC car!
Read Also: Traxxas Latrax Teton Upgrades You Should Have Right Now!
Latrax Prerunner Upgrades
As I said earlier, this RC car is a perfect RC car for adults as well as for kids. However, there is always room for improvement.
And basically, Latrax Teton, Rally, and Prerunner have almost the same parts. They're cheap, easy to replace, and install. Sometimes you need to do some research in order to fix some parts. But it is so much fun!
You can replace the whole suspension system with the aluminum version. This includes the suspension arms and the shocks.
Also, you can change the bearings, the driveshafts, the body that we mentioned before, the caster blocks as well as a lot of other Latrax Prerunner parts!
Read Also: Traxxas Maxx vs Slash Best Comparison. [Which is better?]
Things I don't like about the Latrax Prerunner
Basic Controller and Charger
This is a feature that not only the Prerunner is lacking, but all Latrax RC cars. They have all a basic controller!
The problem is not with the quality, but with the amount f things you can do with this controller!
For example, there is no TSM button because the Prerunner doesn't come with a TSM which is another annoying thing!
All you have in that controller is the throttle to control the breaking and the acceleration, the steering wheel control, as well as another button for the steering wheel settings.
On the other hand, Traxxas RC cars have much developed controllers. At least you can find the TSM button. Some controller even has the lunch control button.
Others have the 4WD differential settings for the TRX4 RC cars.
The charger is also a basic wall charger. It takes up to 3 hours to fully charge the vehicle. You can upgrade to an aftermarket Traxxas fast charger.
But, let's be honest! In the end, you get what you pay for, if you want something with high tech, you need to pay more!
Read Also: Traxxas Slash 4×4 VXL vs Traxxas Rustler 4×4 VXL. Which Is Better?
No TSM!
There is no TSM not only in the Latrax Prerunner but also in the Latrax Teton as well as the Rally.
This is something I don't like a lot. But it has never been a deal-breaker!
Actually, you don't need TSM in such a small car. It's easy to control!
Despite having all these annoying things, this doesn't make the Latrax less valuable. It is still worth it!
Here are the best things I like about this RC car.
Read Also: Traxxas Maxx. Best Traxxas Mini Maxx. Is It Worth It?
Things I love About Latrax Prerunner
You Can Upgrade everything!
Despite being smaller than Traxxas RC cars, Latrax RC cars still have the ability to be upgraded freely with no problems at all.
And the great thing is that their parts are so available and cheap. You don't need to spend a fortune!
It's Small
Being small isn't always a disadvantage. This RC car is so perfect if you don't have much space in your home.
It's easy to put it in a small place.
Easy to carry with you.
So lightweight.
Comes With A Battery and Charger
As I mentioned earlier, this RC car comes with a battery and charger. They don't have the same quality as the aftermarket ones. But at least, you can work with these.
And you don't have to spend extra money like you do when you buy a new Traxxas RC car.
Read Also: Traxxas Rustler 4X4 VXL Best Review. Is it worth it?
Final Conclusion
Despite having some disadvantages, Latrax Prerunner is still one of the best Latrax RC cars.
Affordable price, high performance, big room for upgrades and so much fun! Who would like more?
What about you? What do you think about this RC car? Would you consider buying it? Tell me in the comments below!
Read Also: Hoss vs Maxx – Which Is Better Traxxas Maxx or Hoss?