No matter how perfect your RC car is, there is always room for improvement. The same thing goes with your Latrax Prerunner upgrades.
However, adding some parts to your RC car can have a good effect on your car, like increasing speed, adding more power, increase stability and grip.
It can be also bad! Like some parts don't fit or are not compatible, sometimes some parts are so powerful that the other parts may stop working.
This is why you should be careful when you pick up some parts. It doesn't have to be just for your Latrax Prerunner upgrades, but for any other RC car you have!
But how do you choose the right parts?
Well, you don't need to worry about that because, in this article, I'm going to show you not only the best upgrades but also will give you the exact same version for your Latrax Prerunner.
Let's do that in the next few lines…
Read Also: Latrax Prerunner. Is It The Best Traxxas UDR Alternative?
The Battery: One of the Easiest Latrax Prerunner Parts
You may ask me: "Why would you put the battery at the top of the list? Latrax Prerunner comes with a battery and a charger included!"
Well, remember that these are upgrades. And it is true that they come with a battery. However, finding a better battery that gives better performance for your RC car is totally a great deal.
In addition, This is the easiest part you can add to your Latrax Prerunner upgrades. It doesn't require any experience to put it in your car.
And it takes also just a few seconds to do it.
And here you go, your RC car became a beast with a small change. Isn't that great?
Now, the Latrax Prerunner battery upgrade is the 2s Lipo battery. Here is the link to discover more info about it including the price:
Read Also: Top Traxxas Latrax Rally Upgrades You Should Have Right NOW!
Brushless Motor: One of the Coolest Latrax Prerunner Upgrades
Unfortunately, Latrax Prerunner comes with a brushed motor. But this doesn't mean that it is a bad thing.
The only reason why you would upgrade to a brushless motor is to have more speed. And more speed means more fun and enjoyment! Isn't that right?
Also, you can brag about your RC car in front of your friends since you have something they don't!
However, there is a bad side to that. It's a little bit hard to change the motor. You need to take off a lot of parts before that.
But let me tell you that the brushless motor is really worth it because this will be the best upgrade you'll ever make to your RC car. It's another level of performance!
Now, there will be two types of people reading this paragraph:
Those who will get excited to upgrade to the brushless motor despite being hard. That's because they see this experience as something they can learn from. Which is something good.
And those who will see the hard part. If you're from these guys then it's ok. You don't need to worry. You can get one of your friends to help you with it, or pay a professional to do that!
In addition, there is a complete tutorial from the Ready To Run RC Youtube Channel that will show you exactly how to do that.
And here is the best-brushed motor to add to your Latrax Prerunner as an upgrade:
Read Also: Traxxas BIGFOOT Upgrades You Should Have NOW
The Pinion Gear
The pinion gear is a small gear related to the output of the motor. The larger the pinion gear the faster the RC car becomes.
However, you should pay attention. Why? Well, do you remember what I told you in the introduction of this article?
Some parts may destroy other parts, and this is most likely because of the huge gap in performance of each part.
A pinion gear may make your motor put more effort, which means a higher temperature. As a result, you risk having your motor burned out.
But since you upgrade to a brushless motor, you don't need to worry anymore since it's so powerful that it can handle that well.
But to take more precautions, make sure to check the temperature of your motor each time you go full throttle with your RC car!
Here is the best pinion gear to add to your Latrax Prerunner Upgrades:
Read Also: Traxxas BIGFOOT Upgrades You Should Have NOW
The Spur Gear
The difference between the pinion gear and the spur gear is the fact that the pinion gear is related to the output of the motor. On the other side, the spur gear is related o the central driveshaft of the vehicle.
And he's in touch with the pinion gear of the motor.
Also, contrary to the pinion gear, the smaller the spur gear, the fastest your Prerunner will become.
With the mix of these 2 parts in addition to the brushless motor. Literally, nothing can stop you. You can reach up to 25mph.
BUT, before proceeding to the upgrades, there are some pinion rules that you should know:
A big pinion gear + a small spur gear = Lower acceleration or less torque + more top speed.
This means that you can increase your top speed to 25mph for example. But, you'll increase the duration of time to get to that speed.
The advantages: More top speed.
The disadvantage: More heat and stress on the motor (the more powerful the motor, the lower the temperature).
Smaller pinion gear + a big spur gear = Better acceleration + less top speed.
This means that the motor will be less stressed, have faster acceleration but your top speed will decrease!
Advantages: Less stress on the motor, faster acceleration
Disadvantages: Lower top speed.
Now you choose which one do you want. For me, I would choose definitely the first option. Because by strengthening my motor to the brushless version, I don't have to worry about it.
Here is the best Spur Gear for your Latrax Prerunner:
Read Also: Top 10 Traxxas Summit Upgrades You Should Add NOW!
The Steering Servo
After upgrading your brushed motor to a brushless one, and upgrading your two gears. Your RC car is now much faster than before.
However, your steering can't keep up with that speed. You need to upgrade it as well!
Upgrading your steering servo will make it faster to convert your commands to physical actions. So, with high speed, you need faster steering to turn your wheels whenever you want.
What about changing it? Is it hard?
No, it is not that hard, the tutorial above is showing you step by step how to do that.
Here is the best metal steering servo you can get for your Latrax Prerunner upgrades:
Read Also: 10 BEST TRAXXAS STAMPEDE PARTS YOU SHOULD HAVE NOW
The Shock caps: Simple Latrax Prerunner Parts
The shock caps are the little parts that fix the spring inside. These stock caps handle so much pressure that they break quickly and easily.
As a result, your RC car will be unable to move!
This is why, by changing the shock caps to the aluminum ones, you won't bother changing them again because they'll last!
Also, their installation is easier than the upgrades we mentioned above.
Here are the best ones for your Latrax Prerunner upgrades:
The Suspension Arms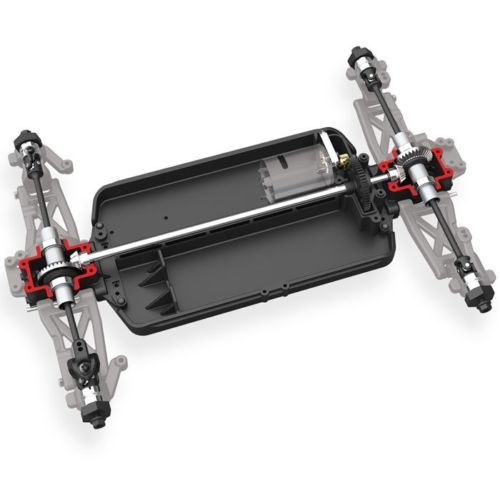 The suspension arms are some great Latrax Prerunner upgrades that you won't add just more performance to your RC car, but also a better appearance.
The role of the suspension arms is to support the shocks and to strengthen the link between the chassis and the wheels.
However, the stock Latrax arms are just from plastic. Cracking them would be easy with some high jumps.
This is why you should upgrade to aluminum arms that will help you drive your RC car more comfortably. And you don't have to worry about cracking them again!
They come in different colors. You can choose which one you want by clicking the link below:
Read Also: Top 6 Traxxas UDR Upgrades You Should Add Right Now
The Driveshafts
After changing the Spur and the pinion gear, more speed will be transmitted to the wheels. And this is exactly what the driveshafts do!
The driveshafts are responsible for transmitting the power from the central driveshaft to the wheels.
You can see them on the side of each wheel on your Latrax Prerunner next to the suspension arms.
The problem with the stock ones is the same with the suspension arms: The building quality.
The other problem is that they're not protected by the body, they're exposed!
So, with some bashing in the off-road, they may get hit and break down. And here you go, no more power going to the wheel.
Hence, changing them to the aluminum version will save you a lot of time and headache struggling to get new ones every time they break.
They come also in different colors that you can choose from to add to your Latrax Prerunner parts:
Wheels Hexes
The wheel hexes are a great upgrade if you're interested in developing the look of your RC car.
They're from aluminum and they're responsible for fixing your wheels with the chassis. And they grant not to let the wheels get off your car while running at high speed.
They're not that important since the Latrax Prerunner is a small and lightweight RC car, but they look so good as a decoration for your RC car.
Also, you can get them with the driveshafts in one package with one price by clicking the link above in the driveshafts version. Or just click the link below:
Read Also: 10 Best Traxxas Hoss Upgrades You Should Really Have Right Now