After I reviewed the most popular Traxxas RC cars like the Traxxas Maxx, Slash 4×4, and the Rustler.
The RC car I'm reviewing today seems to me to be a little bit different than all the previous ones I saw because it is the best performing, the fastest, and the coolest one. It's the Traxxas E-Revo 1/16 VXL!
Traxxas E-Revo 1/16 VXL Design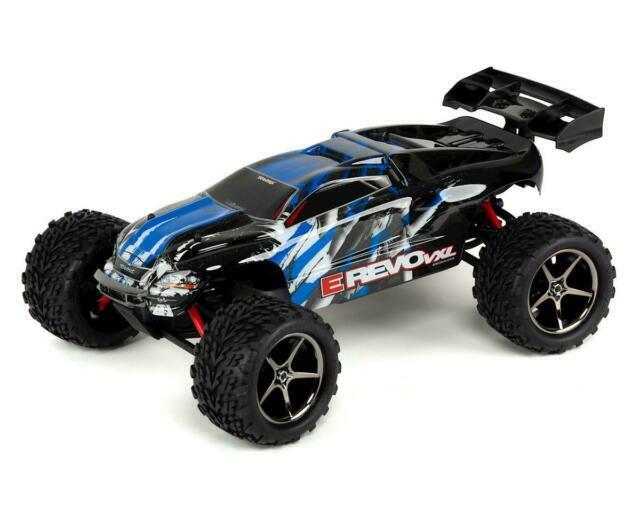 Traxxas E-Revo 1/16 VXL has a very special look. Its sharp design is different than other Traxxas RC cars to prove the huge power and speed.
In this Traxxas beast, not only the body that is different, but also, the chassis composition is also different.
Due to its small size, the chassis is so small that there isn't much space between each component, and that they put the battery on the sire instead of putting it on board like other pieces.
Please don't think that that a small chassis means fewer components. This RC car has the most advanced technology that makes it so much funny and amazing!
Traxxas E-Revo VXL Performance
Now, let's get to the real show, to reveal the crazy power of this mini monster!
Traxxas E-Revo 1/16 VXL comes with the brushless Velineon® 380 motor that is built specifically for the 1/16 types of RC cars.
The Velineon 380 is built to the same no-compromise specs as the Velineon 3500 found in Traxxas' 70+mph 1/10 scale VXL models.
This means that he has also high-speed ball bearings, sintered rotors, neodymium magnets, and gold-plated 3.5 mm connectors, and these parts all add up to 50,000 rpm of pure power and speed!
The battery
Despite this motor being so powerful, but as everybody knows, the battery is an extremely component in any Traxxas Car.
And the more powerful the battery is, the faster the RC car becomes, and this is exactly what's happening in the Traxxas E-Revo VXL case. Let me explain…
Basically, if you see the E-Revo VXL box, you'll notice that there are two speeds mentioned there. But what does this mean?
When you buy this RC car, you have two options:
To take it with the original battery that comes with it (Yes, this car is RTR). This battery is a 6-cell NiMH battery (Amazon), but this will make it reach a max speed of 30 mph.
OR, if you want to have more adventure and more excitement, you can add a second 6-cell battery, and this car will become a monster that can reach up to 50 mph. This battery is sold separately.
Personally, I prefer the second option to have maximum fun and speed.
Also, I love enjoying the legendary jumps of this Traxxas E-Revo 1/16 VXL because no other RTR truck, regardless of scale, makes it so easy and affordable to experience this level of high speed and wheelie-popping power.
The other parts of the Traxxas E-Revo 1/16 VXL
Traxxas E-Revo 1/16 VXL has the same parts as the Traxxas E-Revo VXL 1/10 but on a small scale. That's it!
The coolest thing I like about this RC car is the suspension that has been expertly adapted to 1/16 scale with all its functionality and performance intact, right down to the oil-filled, threaded-body GTR shocks.
This suspension is providing huge capabilities and performance to such a small RC car.
Other than that, here are some common great features that come with the Traxxas E-Revo 1/16 VXL: (These features are fully explained in our other articles)
Traxxas Stability ManagementTM
Traxxas Power Cell NiMH battery with iD®
2-amp DC Peak Detecting Fast Charger
TQi 2.4GHz transmitter and receiver
30+mph with included NiMH battery
50+mph with additional NiMH battery
Revo suspension technology for superior handling and control
Full-time 4WD
Velineon® 380 brushless motor—largest in class
Waterproof electronics
Torque-control™ slipper clutch
Sealed differentials
Realistic all-terrain tires with foam inserts
What I Like About This Car
Honestly, I like everything that comes with this car including the upgrade option. But what I like the most is…it's different! Small, Sharp looking, high performance, high speed, so much fun. Literally, what else to say!
What I Don't Like About This RC Car
I didn't notice anything bad about this car so far. However, some people say that the car is somehow fragile, but what I found out later is that all these people were playing in a small closed space.
For me, such an RC Car with high speed isn't for closed space.
When you're buying a Traxxas E-Revo 1/16 VXL, you have to make sure that you should play in a wide space not only to be safe but also to enjoy the real power of this beast!
If you'd like to own this Traxxas E-Revo 1/16 VXL, click on this direct link, or you can click on the button below. And enjoy your order!